December 10, 2018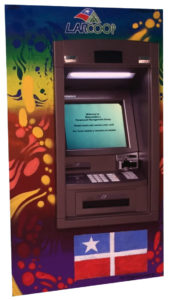 JACKSONVILLE, FL — Sharenet, a subsidiary of Paramount Management Group, is proud to announce that it has entered into an ATM management agreement with Cooperativa de Ahorro y Credito de Lares (LarCoop) in Puerto Rico.
Sharenet will be providing complete ATM outsourcing services to LarCoop's ATMs. A leader in providing ATM outsourcing solutions to financial institutions since 1994, Sharenet has been present in Puerto Rico since 2008 and provides services to over 27 local financial institutions throughout the island as well as proving ATM solutions to Walgreens.
"We are proud to expand our ongoing relationship with LarCoop and this new agreement is a reflection of the trust we have earned from our customers," commented Jorge Fernandez, CDO/CMO with Paramount. "Providing reliable and efficient services to our customers is at the cornerstone of our outsourcing offering and we look forward to continuing to assist LarCoop in the expansion of their ATM network throughout Puerto Rico."
"We are grateful to the entire Paramount and Sharenet team for their diligence in bringing our new branches live and with the superior level of service they have provided our ATMs," says Jose Marrero, CEO at LarCoop. "Our members expect superior service levels at our ATMs and the Sharenet team have delivered on that commitment."
"We have made substantial investments in expanding our ATM offering in Puerto Rico and helping our local financial institution customers recover from the effects of Hurricane Maria. We are committed to the island, its recovery and assist our customers to reduce costs and improve ATM functionalities." added Fernandez.
ABOUT SHARENET — A subsidiary of Paramount Management Group, Sharenet is a leader in providing ATM outsourcing solutions to financial institutions. Founded in 1994 by 10 New York credit unions with the goal of sharing expenses and profits while expanding their ATM network, today the company prides itself on providing credit unions and community banks throughout the United States and Puerto Rico with full-service, turn-key ATM services with the highest quality customer service at an affordable price. Sharenet alleviates the operational headaches involved with managing ATMs. Visit www.sharenetatm.com for more information.
ABOUT LARCOOP — LarCoop is a Cooperative based in Lares, Puerto Rico serving the north and northcentral area of the island. www.larcoop.com
Contact Information:
Jorge Fernandez
Chief Development and Marketing Officer
786-877-1624
jfernandez@paramountmgp.com
www.paramountmgp.com
www.sharenetatm.com
2018 Paramount Management Group, LLC. All rights reserved