Sharenet's Cash@Work program increases your brand reach and recognition through customized partnerships with local employers to place on-site ATMs right where your cardholders work.
Provide your account holders with surcharge-free access while growing exposure to a wide range of ATM users within your footprint.
---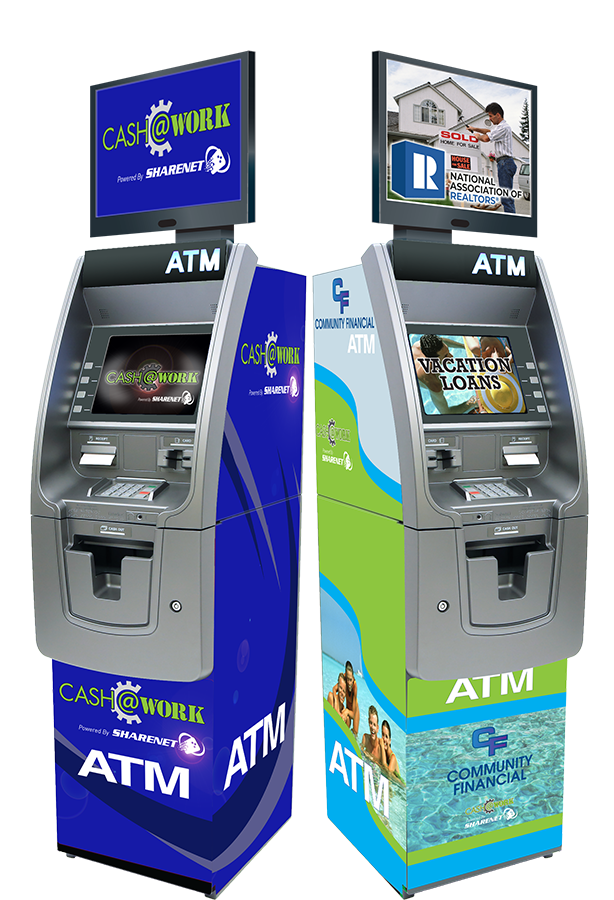 Expand your Brand Reach with Cash@Work
Display your brand prominently within local businesses
Provide account and cash access to people on-the-job
Increase cardholder safety and security
Raise awareness of products and services with customizable branding
Grow primary accounts
Promote financial education
More Than Just an ATM. A Powerful Marketing Tool.
Financial Insitution Quality ATM with a 15" Monitor.
Featuring the New Paramount DMS Media Topper that will allow you to display customized rotating ads to promote your products and services, as well as location specific in-house messaging. Remotely managed, the topper can display messages in full motion video as well as still images.
Up to Six Customized Rotating ATM Screens that deliver messages directly to employees working for local businesses.
Customized ATM Wrap to promote your financial institution's brand.
Totally Hands Off Management of the ATM. No cash loading, monitoring, maintenance, keeping up with compliance or being responsible for upgrades.
Affordable Program that expands your brand reach that promote recognition, convenience and safety to potential new account holders.