Branding
Our branding program allows you to maximize your competitive edge and reduce costs by leveraging the existing relationships that Sharenet has with thousands of retailers.  
The concept of branding is straightforward. Your institution selects from a list of ATM locations that Sharenet already owns and operates at convenient locations. Those ATMs are then branded with your financial institution's brand, not only through custom wraps depicting your brand, but also showing your logo and message on the terminal screen, receipts, and video topper. You simply pay a fixed monthly fee per ATM for showing your brand and a very low fee per transaction when one of your customers uses the ATM—surcharge-free, of course. Customers of other financial institutions will pay the regular surcharge fee.
Branding requires no investment in equipment or ongoing operational expenses and you are guaranteed performance through a Service Level Agreement (SLA).
CLICK HERE TO DOWNLOAD OUR PRIVATE BRANDING INFORMATION SHEET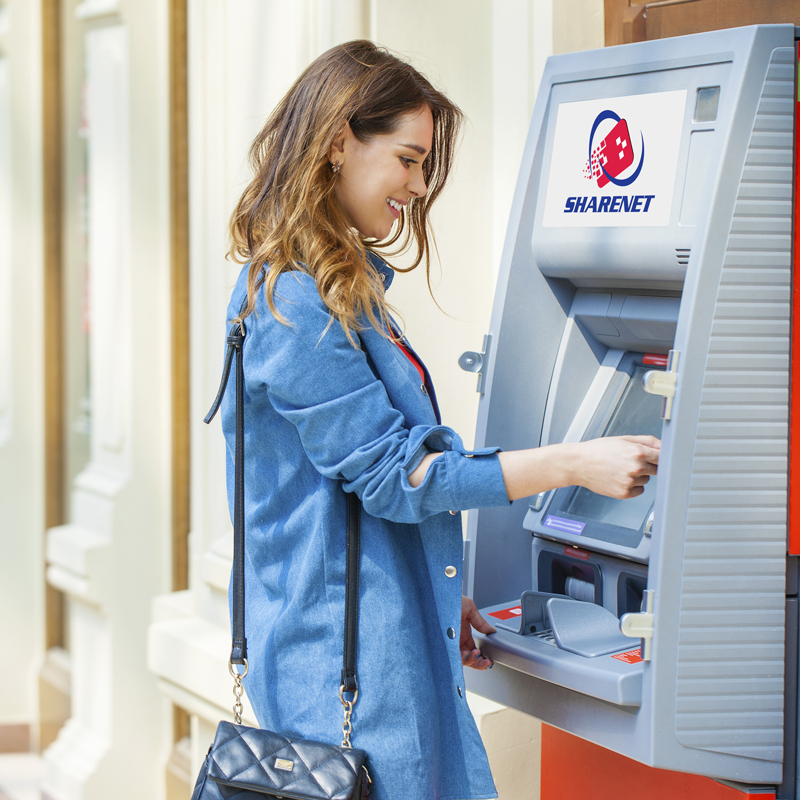 Some benefits of branding include:
Increased brand awareness

by exposing your brand in additional, convenient, and safe locations outside of your traditional branches.

Expansion of surcharge-free access to your customers. Proving convenient and surcharge-free access to your customers helps build loyalty and good will, and increases your brand presence in your chosen markets.
Specifically target your marketing message

.

Our technology allows you to target your marketing messages to the users and other consumers walking by. You can selectively target campaigns to your customers and a different campaign to non-customers.
Eliminate capital and operational expenses

.

No investment in equipment or operations required.
Improve customer accessibility

.

Our retail ATMs are conveniently available, with some of them in 24/7 locations.
Hassle-free compliance and security. Sharenet handles all compliance issues regarding the ATM equipment and software, and ensures that cardholder data is protected in accordance with the latest industry standards, including PCI and EMV.